Exactly one year ago today…
I am in the heart of New York City participating in the biggest product launch of my career. I am back stage surrounded by video and stage production equipment of all kinds and have carved out my own 'nest' filled with computing equipment that I'll be using today.
On stage are two of our leaders announcing the capabilities of PureFlex. I am responsible for the live demonstration during the announce so while I won't be on stage today, my work will be.
From the FOH speakers I hear "Now I would like to show you the value of PureFlex".
Here we go!
For the next four minutes we perform a technology-filled 3 person dance: the live demo appears on the stage-right jumbo-tron, the 'behind the scenes' animation appears on the stage-left jumbo-tron. Me? I'm playing 'OZ' behind the curtain. Leader #1 picks up the iPad that I've configured to show the demo to the world. It is connected to our SmartCloud Entry software through a private WIFI to show how easy it is to deploy new workloads into PureFlex systems. "4 clicks" he usually says. But not today. The software was design to run nicely on iPad so today he says "4 taps".
Leader #2 talks about 'what happens behind the scenes' during those four taps…from image deployment with built in expertise…to optimizing resources based on workload needs and real-time performance.
I am monitoring the live demo…and running a redundant live demo on a completely separate iPad and system. AND, I've got a backup recording running…ready to switch to either backup instantly in case there's a problem on stage. I've been gigging for years so I know that in a live situation you always need a spare guitar (or demo system) or two as backup.
In the middle of the demo I hear "Oops". My heart stops. I am about to switch to live backup demo when I hear "Ah…there it is". My heart is still stopped but a smile of relief appears on my face as the live demo continues to run perfectly.
Before I can breathe the demo is done. I hear applause. Our announce of PureFlex is a success! I mingle with the VIPs and enjoy a small portion of the 35 cases of vodka. The audience files out and after some souvenir pictures I help strike the set.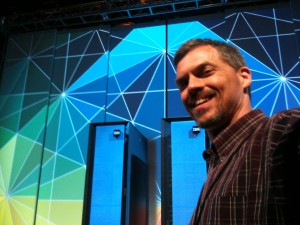 Today is a day to remember and has exceeded all expectations! I wonder what tomorrow will bring?
From that day to today I've traveled around the world (literally) and performed dozens of pressure-filled live demonstrations showing all that PureFlex offers…from SmartCloud Entry deploying multiple images across multiple hypervisors to a single PureFlex system…to showcasing our latest Flex System Manager user experience on our desktop UI and mobile app. The response? Enthusiastic applause, requests for more, and stories of how our user experience is truly having an impact on customers and partners alike.
It's been quite a year and I can't wait to see what the next year brings!